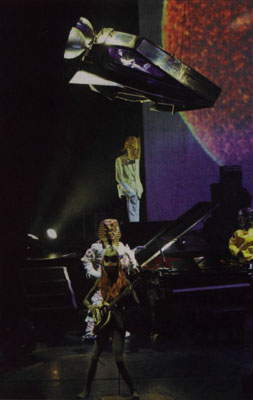 The Observer

Sunday 15 March 2009 Pop
Now this is really Special
Kitty Empire
When the Specials' long-awaited reunion tour opens in April, it's a sure bet that the band will play 1981's chart-topping "Ghost Town". Their most enduring hit lambasted the Conservative-sponsored economic decline of northern towns and cities with spite, style and spooky avant-garde sounds. Riots accompanied the song's tenure at number one, while skinhead violence marred the Specials' gigs, which were intended as cross-racial rallies.
With boarded-up shops and knife crime once again a feature of British high streets, this year's recession is an apposite time for a "Ghost Town" rewind. When the Specials play it, though, it won't sound like this. Estranged Specials keyboard player Jerry Dammers, the song's author, is gargling into a microphone, approximating the eerie noises at the start of his number one hit. Behind him, an eight-strong brass section culled from all generations and all stripes of British jazz work their way up from a mournful parp to an angry goose crescendo.
Poet Anthony Joseph interpolates a section of lyrics from cosmic jazzer Sun Ra's "Nuclear War" into the first half, while the Spaceape, an MC known in dubstep circles for his doomy collaborations with Kode9, later snarls the song's lyrics in foreboding West Indian tones. It's all quite marvellous. As the track mounts to a mighty 18-strong free-ska-jazz roar, the notion of Dammers ever being party to something as obvious as a 30th anniversary nostalgia tour becomes even more laughable.
Although the bad blood between Dammers and the band he founded was still spurting as late as last week (see the passionate debate on the Guardian's Comment is Free site), the word from the Specials camp is "the door is open". Dammers might well retort that the Specials' doors of perception are not flung sufficiently wide to warrant his return.
Pop music is clearly not a big concern for Dammers, a man just as cavalier about his lack of incisor teeth. He has, quite literally, gone jazz. When the Specials broke up in a Top of the Pops dressing room soon after "Ghost Town" hit the top of the charts, three Specials - singer Terry Hall, guitarist Lynval Golding and percussionist-singer Neville Staple - went on to form the tuneful Fun Boy Three. A rump Specials carried on under Dammers, who penned another anthem, "Free Nelson Mandela", before leaving the music business entirely to become an activist.
Dammers has been musically awol for the best part of 20 years, bar the occasional DJ slot and a toe-dipping turn onstage at Glastonbury in 1994. Then, in 2006, he made a comeback with his mischievously named Spatial AKA Orchestra. Dammers's new, sprawling ensemble paid tribute to cosmic jazz big band master Sun Ra and his celebrated Arkestra, as well as psychedelic harpist Alice Coltrane and sundry other odd-bods concerned with musical mind-expansion.
This latest all-star Spatials finds venerable 60-ish saxophonist Larry Stabbins trading honks with 26-year-old speed-sax wunderkind Nathaniel Facey while Mercury-nominated Zoe Rahman tinkles the piano. All concerned are wearing robes and masks harking back to the pharaohs or forward into the space age; kitsch, alien, car-boot sale cast-offs and mannequins slung with keytars dot the stage. In a time-warping two-and-a-half hour set, the Spatials skank and skronk their way through a selection of Sun Ra and Alice Coltrane classics, including an unexpectedly grandiose version of the Batman theme, miraculously stripped of all naffness. The band are never less than spectacular, maintaining both groove and discipline even as they swap funk breaks with monkey noises and great, eddying blares of brass.
As with Sun Ra's Arkestra, the Spatials spectacle is engrossing. Having filed in through the audience at the start of the set, the Spatials wind their way out, still playing, chanting and skanking and end a nagging "Space is the Place" in the Barbican foyer.
As his Spatials project has unfolded, there have been rapprochements between Dammers and the rest of the Specials in recent times, even rehearsals. To be fair to Terry Hall, the famously dour frontman also resisted calls for a Specials reunion for two decades before finally succumbing. But unresolvable issues over motives and how a reunion tour would work have driven Dammers and Hall's contingent even further apart of late, exacerbating the long-standing ill-feeling over the band's musical direction and ownership.
Dammers refers to the Specials reunion only once tonight. He introduces Sun Ra's "Discipline in Retrospect" as a track which expresses what he has been through, as his band re-formed without him. You would expect the kaleidoscopic anger that only a free jazz army could conjure. But "Disciplin e" opens with a mournful, bowed upright bass, closely followed by the stately sadness of the massed brass. After a saxophone rollercoaster ride, it all ends beatifically with bells, an elegant and wordless restating of one of the great tragedies of British pop.