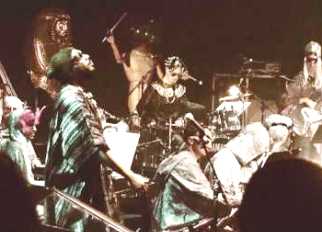 The Brighton Magazine

6 March 2010
Jerry Dammers' Spatial AKA Orchestra: The Space Race Was Done & Dusted @ Brighton Dome
Mike Cobley
Sun Ra may have claimed to have sourced his musical landscape from the surface of Saturn, but Jerry Dammers' Spatial AKA Orchestra's reinterpretation of the great man's material was simply out of this world at Brighton Dome (05/03).
To many Dammers will be perpetually frozen in time circa 1979 to 1981, but in many ways his current incarnation of arranger, bandleader and performer is producing more forward thinking and challenging material than that of his time as 2-Tone head honcho.
Indeed Dammers sees Sun Ra as much something much deeper than that of simply a musical space cowboy. He was recently quoted as saying:
"Sun Ra was saying that, for black people in America, they could still travel through space mentally, without all the expense of rockets. So his ideas were political."
"We're playing versions of the funkier, groove-based, African end of Sun Ra from the Seventies; hip-hop-influenced, modern versions, very much my arrangements. It's visual and theatrical on stage, too - there are mannequins and masks and helmets."
"Half the band aren't jazz musicians, they're more reggae or rock. They're the best young musicians in Britain. It's a new kind of jazz band. I don't want them to be compared to Jerry Dammers or The Specials. They're so special themselves."
The two-and-a-half hour performance at the Dome wasn't just a tribute to Sun Ra, but also to those who had sung and composed from the same intergalactic hymn sheet.
The late and universally revered Alice Coltrance's "Battle Of Armegedon" brought to the fore the Orchestra's to-die-for rythmn section .. whereas the likes of the Batman Theme (recast as 'Unmask The Batman') and Mike Oldfield's title music from The Exorcist, were both reinterpreted and reborn under the musical leadership of Dammers.
Disguised in Ancient Egyptian stageware, the 18 members of the Orchestra became visible through their playing. Though each was awarded generous solo slots and introductions, they would be happy to admit they were overshadowed by the mere presence of the legendary ska and reggae trombonist, Rico Rodriguez.
Following a stunning rewrite and update of The Specials staple, Ghost Town, the Orchestra, minus Dammers, wound their way out into the foyer - still driving home the Sun Ra message as 'Space is the Place' accompanied us out and into the night. And what an unforgettable night it had been.
tienda prada chatgpt podcast manuel prada prada outlet prices chatgpt technology prada shoes dhgate chatgpt app中文 chatgpt 如何注册 chatgpt client cardinal supply st.louis prada 18wv prada pr 21xs prada employee discount prada black clutch prada wallet sale prada loafter instagram resetting followers can you use eyelash glue for fake mustache prada leather sandals prada nylon 2005 prada l'homme edt restaurants on river road in rosemont il vinyl building material instagram followers paypal prada hat sale prada rossa prada beverly center captain gear premium outlet banana republic prada bucket challenge prada jordans auto club travel packages prada chain purse 10 instagram followers bill gates chatgpt red prada dress automate instagram followers wholesale building product puma premium outlets prada dog accessories 300 instagram followers manuel prada jack spade fulton prada doctor bag light up as if you had a choice lyrics prada au prada ala moana prada refill perfume prada massage spa gold prada purse edward tian chatgpt prada backpack used salesforce chatgpt vancouver riots kissing geoffrey johnson artist prices roofing material order form instagram followers gratis prada men's briefcase chatgpt salesforce anti chatgpt detector prada mens tie prada zipper art van black friday sale 2016 dan command chatgpt chatgpt api github alyssa craig better than chatgpt 50 instagram followers prada ambassador prada cropped jacket diet prada instagram aws chatgpt prada colors pink prada hat instagram followers 5k zefoy instagram followers light up light up as if you have a choice lyrics mashman helmet automatic followers instagram prada pitbull story prada law instagram manage followers prada bag repairs uses for chatgpt