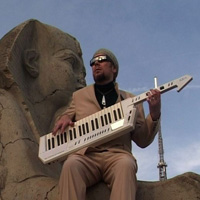 Mojo

Wednesday 11 March 2009
Jerry Dammers' Spatial AKA Orchestra: Live!
There was a full moon last night- an event that would make our ancient forbears expect insanity, turning into a wild animal and other heightened sensory, mental and emotional states. The latter categories certainly applied when Jerry Dammers' Spatial AKA Orchestra presented the show they call Cosmic Engineering: A Tribute To Sun Ra And Other Mystic Mavericks.
Onstage are eight horns, three vocalists, three percussionists, double and electric bass, guitar, pianist Zoe Rahman with Mission Controller Dammers in charge of vibes, direction, keyboards and alien sound effects (see the full list here). The stage is decorated with Egyptian sarcophagi and synth-playing astro-statues, and everyone's clad in Afro-Pharaonic glam gear, with Dammers in a gold head dress with a face on the back - as his reinterpretations of music by the outré likes of Cedric "Im" Brooks, Moondog and Alice Coltrane proceed to show, this man clearly sees in more directions than frontways.
They open with a blistering version of Sun Ra's It's After The End Of The World (with a cheeky excerpt from Joe Meek's I Hear A New World thrown in) and project some wild images of solar flares and the surface of the sun. We are, without doubt, off. The two hours plus that follow present brain-tingling space jazz with beef and size, and include a cover of Sun Ra's cover of the Batman theme and a re-imagining of The Specials' Ghost Town, the tune gargled by Dammers and with Anthony Joseph adding the words to Sun Ra's scary/comic Nuclear War (it segues into an apocalyptic reading of Ghost Town sung by dub vocaliser Space Ape).
Screen projections, of the Arkestra in Egypt, the planets and fantastic visions of life in space keep pace with the fevered sounds. Later, Dammers fiddles with his mic stand and tells us his attitude to the members of The Specials reforming without him should be gleaned from the reworking of Sun Ra's Retrospect they're about to play - it moves from a kind of arch calm to wild frustration, Dammers stalking forth to implore the horn section to greater paroxysms of intensity.
They finish with a hypnotic channelling of Arkestra signature Space Is The Place, the band departing the hall in procession and carrying on in the foyer. Post-splashdown, what to say? Go and see them!
Ian Harrison